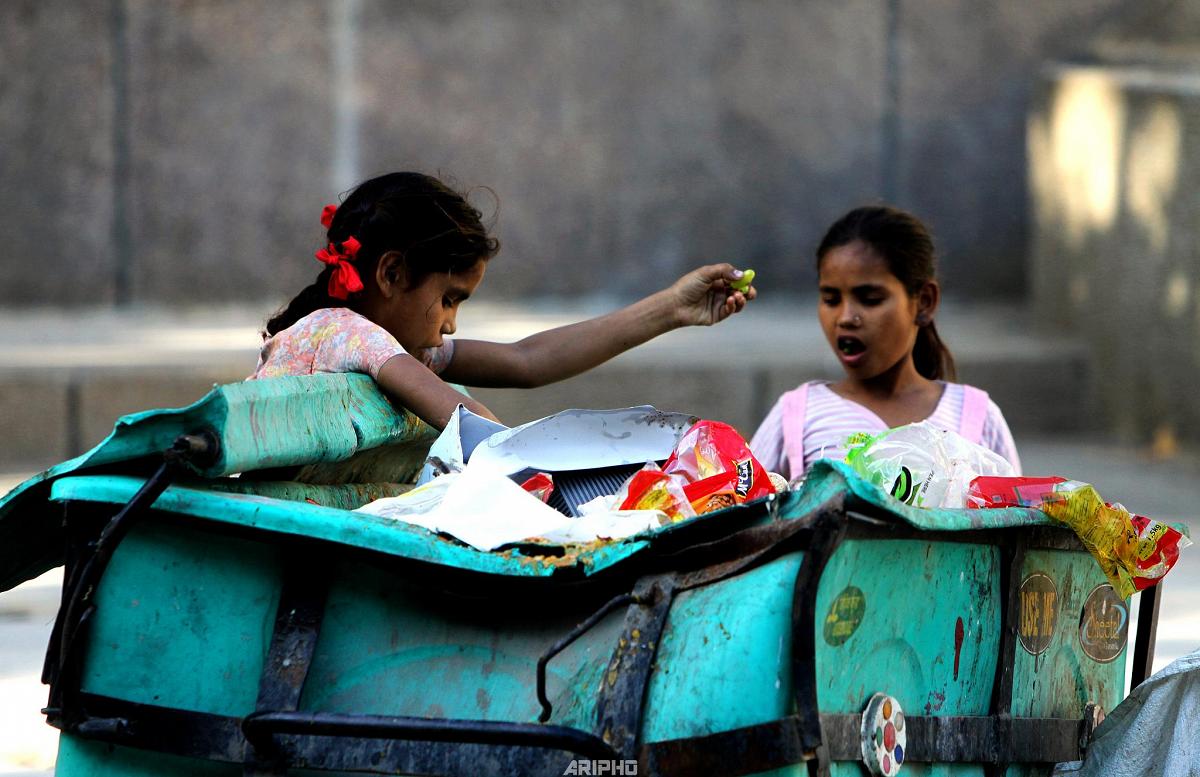 In a Bengali family of the early 20th century women used to eat only after the male members of the family had eaten. Few of them even went on to the  extent of eating the meagre food that remained with out bothering to again cook for themselves.
I had a grandfather from a distant family who once noticed this phenomena in his family and realised that the women hardly got to eat anything on most of the occasions . He made a befitting plan. He started eating more than he could without leaving anything for the women members of the family. This act compelled them to cook again to treat their stomach to a full meal.
This  idea was implemented to enable  everyone to eat a wholesome meal but the path chosen made it a tad bit challenging for the already overworked womenfolk.
Gone are the days that belonged to my grandfather. In my childhood days I had noticed people leaving a couple of sip in the bottom of the glass after drinking cola. That was a very common practice. I had always wondered why ?  I thought I could never do that sort of thing as a glass of cola itself was a prized possession for me.
At the wedding parties, people would ask for all the items in the menu list just to taste and leave the rest for the dustbin to gobble.
I had a friend who would ask me to treat him with some expensive dishes which ended up in the dustbin only because of his low appetite.
It is your mind that makes you believe that you are hungry more than the stomach really can devour.
From my childhood days I was always taught, not to waste food. Even today if my appetite is less than the food that I have on my plate, I make sure that it ends up in my "J" shaped organ by hook or by crook.
I have seen people who never wasted a single grain of rice too. Literally not a single grain.
No, I am no god. Hopefully the following incidents will prove that.
Once I was travelling with my friends from Varanasi to Kolkata by train. Since it was an overnight journey we were carrying food with us. My friend,  Ankur  had prepared "Aloo Parantha" (potato stuffed paratha) for all of us and that was really heavy even for the monsters we were.While we were almost done with our dinner one of our co-passenger who was happened to be a Sanyasi (saint) from a religious institute offered us a packet of roti (handmade bread). Actually that was excess for him and just wanted to pass it on to us. We had no other option but to refuse. He was very adamant. He kept on insisting us to accept it.I angrily said, that we will have to throw it out as we were really full. To my shock he agreed on that and I threw it through the window of the running train. He could have done that too, may be being a saint he felt bad to do that and choose me for it. That was a crime I did that day, the only point of relief was that the roti was in a packet and some homeless hungry person might have got that.
Now a days there are several NGOs to collect excess food from the parties. There are some food ATMs, or banks for excess food too. Though once we were looking for such an NGO and called up only to realise that it was a wrong number. Finally we had to distribute it among our family members.
So this is our society. We grew up learning something but experienced a totally different thing in reality. We were taught wastage of food is a crime but those who taught us and we both ended up wasting them.We are immune to it.

Back in 2011, that day at Pragati maidan in Delhi I was tired after shooting some boring fair. I noticed a couple of children running around a New Delhi Municipal Corporation (NDMC) dustbin. May be collecting garbage that's what I thought. No they were not collecting garbage, they were collecting food from that bin. They were eating too. May be they were blessing those people who have thrown this away. May be they look for such fairs where people waste more food.May be that day they found their favourite food out in the waste. I am sure they don't know how it feel to eat fresh food,may be they have never slept with a full stomach. As I am writing this I feel very bad, for not being able to do anything for them.
But today if I see a child beggar I don't give them a single paisa but make sure they eat some food.

Once in Muzaffarpur, I met a little boy whom I asked which class do you study in? He actually had  to repeat for me to register his reply. He said, "Khichdi (a dish) class ". He goes to the class which provides him with food. That was a very painful reply I had ever received.
Some of us have the luxury to differentiate food in to different categories, like breakfast, brunch, lunch, dinner, snacks, fast food, desserts and many more. But there are a huge number of people for whom it's just food.
Photo & Text : ARIJIT SEN
Edited by : RAJASHREE SEN