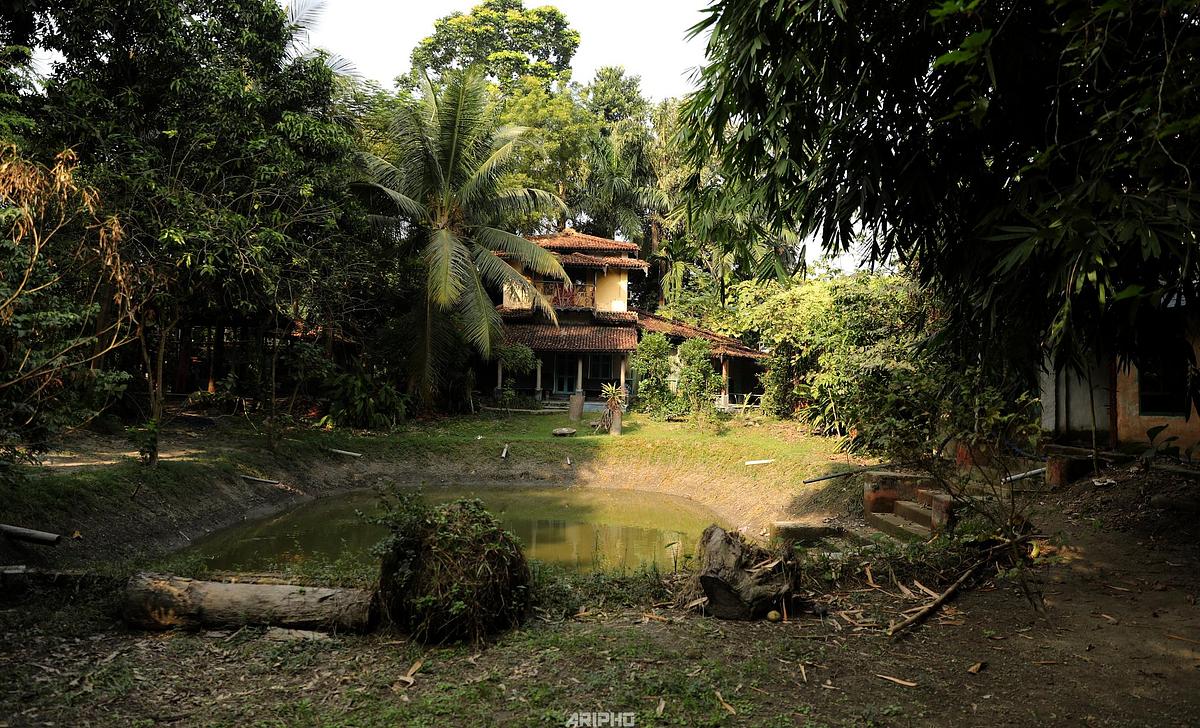 Bengalees live for gorging on good food and travelling to places even they have only one day to spare. One vacation ends with the planning for an upcoming one. If they are stuck with no trip for a month they start getting suffocated. In the last one month we had already traveled to Sikkim and there are many more slated in the next one month and yet she was feeling suffocated and booked this place for a one night trip.
Jalpath, a great place for a day trip or a night trip from Kolkata was worth it. Beware singles, you will not be able to land with your partners without showing your license! You need to be MARRIED!
Its just 9kms from our place and 18-20kms from the Rashbehari crossing. In spite of being so close to the city Ola and Uber consider it as an intercity journey. If you don't have a car there is nothing to worry. This place is on the Basanti highway and is well connected by bus from several places in Kolkata. If you prefer the train even that's possible. You can get down at the Sonarpur station and take a direct autorickshaw to your destination.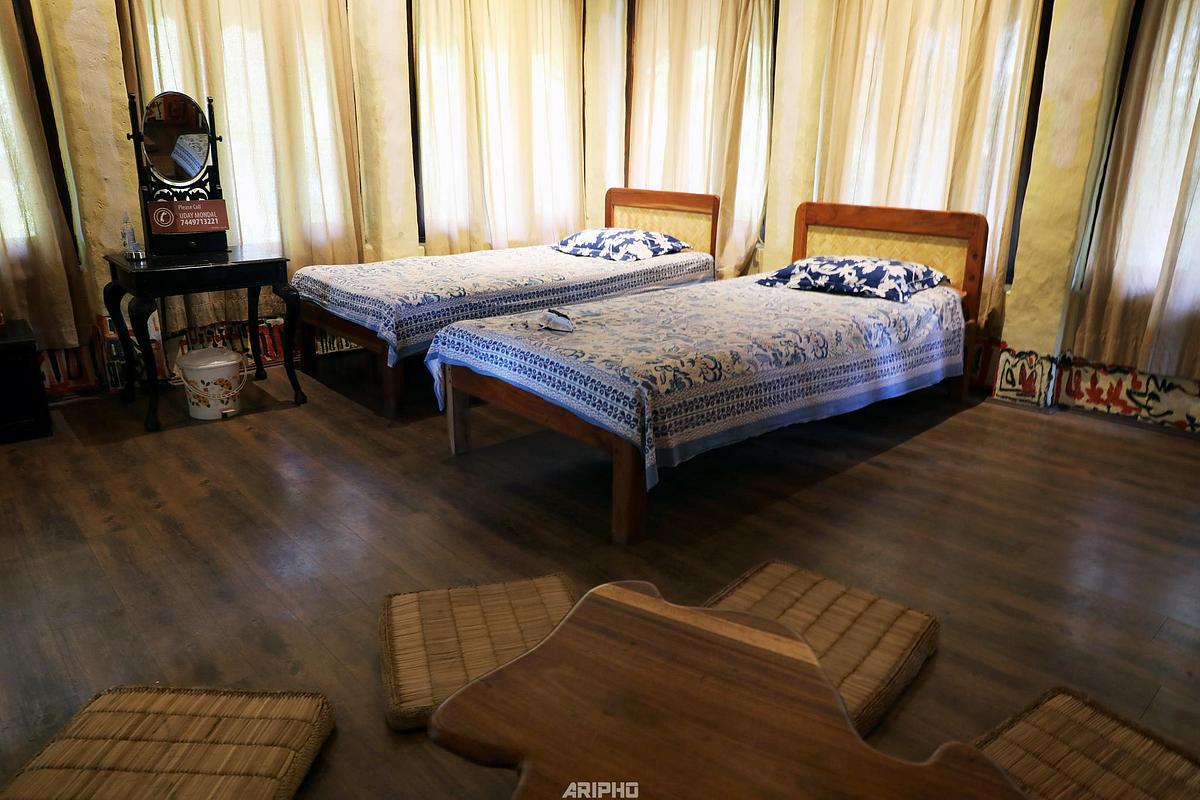 Check-in is at 1PM, so leave your home with a heavy breakfast if you opt for lunch here. (Carrying a packet of munchies is advisable, if you feel hungry at regular intervals.)
On reaching, the caretaker Uday guided us to our room, our cottage in fact. It had 2 single beds, attached bath and a small but cute balcony. All comes for Rs3000/- per night including breakfast. Daylight is in abundance with three side open and multiple windows. A towel and basic toiletries are provided.
There are some activities inside the property, like pottery, weaving and wood carving. None of them are functional at the moment though, since Covid  followed by the heavy rainy season has let to a halt pertaining to these activities except weaving. I did request Uday many a times to show me how it works but he never did, I couldn't learn the ropes of a weaver sadly.
| | |
| --- | --- |
| | |


We were really hungry by 2pm, we were the only guests there and they were a little slow. Finally they took us to the dining area which used to be a café earlier. The original dining area is under renovation. Food was already placed on the table. Its Rs750 per head (lunch and dinner) but if you go for mutton be ready to shell out Rs150/- extra. But worth it. The spread includes rice, lentil, green salad, a curry with pointed gourd, mutton curry, fish curry, chicken curry, a curry of cottage cheese, and sauce (chatnee in Bengali) to end with. After all this I could only belch and slowly parked ourselves in the room.
In the late afternoon we went out to explore the property. It has a small pond with hardly any water in it surrounded by plenty of greenery, birds, three ducklings and a stray dog who had achieved her motherhood recently. An ideal place to relax and absorb the nature.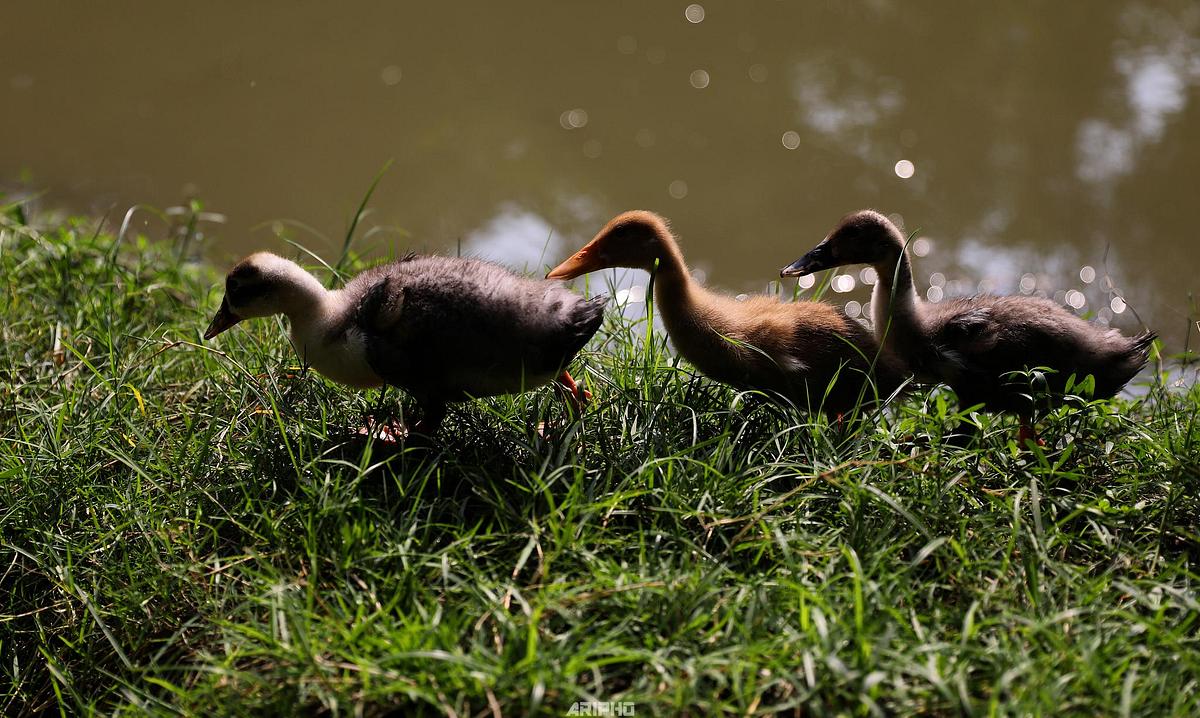 No there is a villain who can interrupt, a labelling factory of the same owner which is inside the complex and continuously polluting the peacefulness with the machinery noise.
Lets ignore that.

Just across the pond there is another cottage. The ground floor accommodation is for Rs5000/-. A wooden stair case totally taken over by the creepers takes you to the first floor which is for Rs4000/-. The view from the first floor balcony is beautiful over looking the pond.
We were just strolling, taking photos and making insta-reels.


Oh! we also discovered a new place, another bungalow hidden behind the greenery. Its a wooden house from a fairytale. Sorry you can see it from outside and take photos but can't book it because it belongs to the owner.
In the evening they gave us a plate of fried onion and French fries on request which were chargeable.


If you have already made up your mind to visit this place don't forget to add Odomos (mosquito repellent) to your belongings. You can easily mistaken a mosquito with a sparrow, they are really big. Add one light bed sheet  as the room has nothing except the bed-cover and a pillow per person. Uday is a nice guy but has a tendency to forget things, forgot to give us a couple of bed-sheets in-spite of request.
They served us the dinner in the room, that was really helpful as it was very difficult for me to negotiate the wooden undulating stairs after a couple of drinks.
They severed us with a pot of tea on a wooden tray decorated with freshly plucked Jasmine first thing in the morning.
We had a refreshing breakfast beside the pond. Puri with split chickpea lentils, boiled egg and hot and soft rasgulla.
They don't have provision for card or wallet payments there at the resort, better to carry cash or transfer the amount online.
The Check-out time is 10AM. Adhering to that we booked our Uber accordingly.
Its a place to visit in groups to make the most of it.
If you too want to be reviewed by newcomers like us in an unique way, we are game.

Text & Photos : ARIJIT SEN
Edited by : RAJASHREE SEN