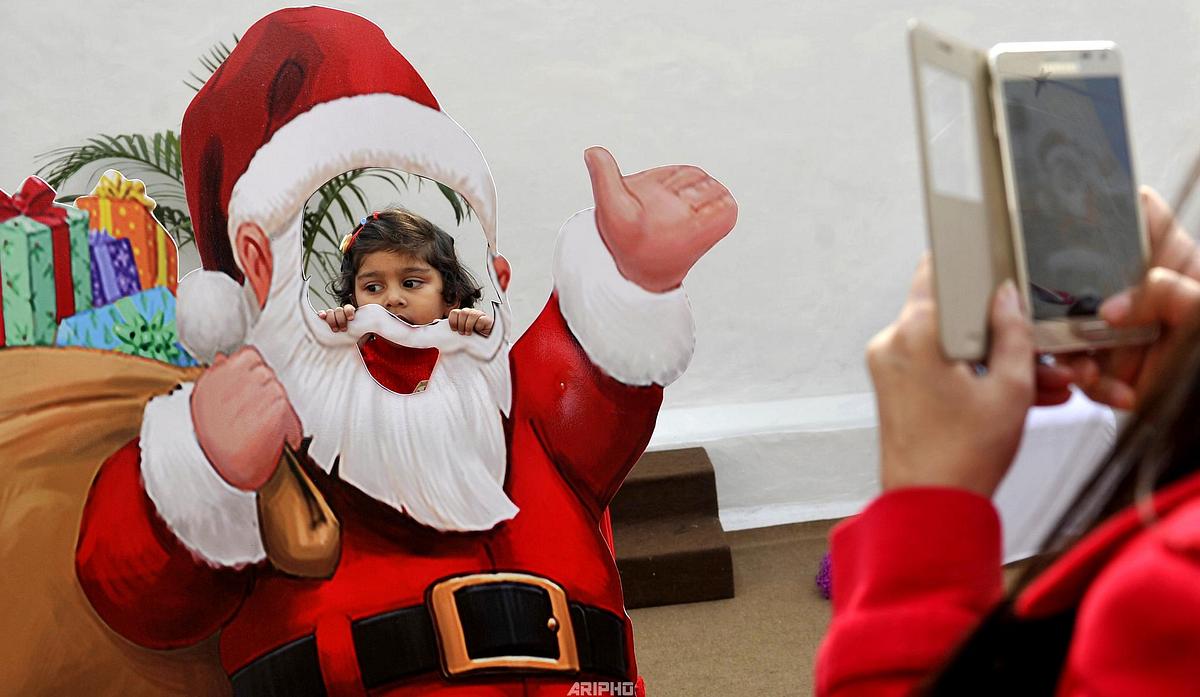 They say that Santa Claus comes  on the mid-night of Christmas Eve with a bag full of goodies for the naughty and nice children all over the world.
Everyone is especially interested in the gifts that he  brings.
Today, I was having a conversation with a little boy in our neighbourhood, who is extremely excited about Xmas as he is eagerly waiting for Santa's gift. He claims that he actually received gifts from Santa. That innocent boy believes that one has to write a letter to Santa Claus with his/her wish and tie it with a gas balloon and leave it. It would then actually reach Santa Claus. But he is worried since he has no balloon with him. I suggested him to write his wishes and make a plane out of that paper and let it sail in the air, which should too eventually reach  Santa . However he denied to accept my suggestion.
He was explaining to me how he puts his pair of stockings outside the door for  Santa to leave his gift. I asked him if he ever leaves his stinky socks for Santa, to which he smilingly said no.
Then the curious school boy asked me, if I ever received gifts from Santa? I said, never. He was amazed and denied to believe me. He actually can't believe that there could be a person in this world who has never received his gift. So he went inside to his mother and asked how come an uncle has never received any of Santa's gift? To his satisfaction his mother said that uncle got his wife as a gift from Santa.
 I gave him a fake surprised look and asked what would he do if he gets such a gift from Santa this year which won't fit in his socks. Now he became a little confused, and with a deep breath he replied "I will keep it at home".
This cute little boy wants a fitness band this year and has no clue if that old white bearded man would bring that.
In my childhood days Santa Claus was only on the greeting cards, walking on the snow. I doubt if he ever visited the countries like ours where snow is only available if we scratch the freezer.
I actually never knew that Santa gives gift that you have wished for.
In those days when ever I wished to have something, I would go to my parents and nag them till they were convinced. They would give it only if it fitted their pocket and not the socks and that was applicable for all 365 days. For me, my parents were my Santa, gifts or no gifts ,love was in abundance. Today, when I need those love filled hugs and to the blessings of my Santas, one ( my mother) is in frame and the other one (my father) is in bed. So the one from the greeting cards is the only way out I guess.
If he at all exists and does bring gifts, I want a gift this year and also want to redeem the ones that I never asked for in so many years. Will he bring it for me? I have only a pair of stinky socks, will he bother to put the gift inside that? If it doesn't work, I have plenty of empty bags. That should work I believe. But I wonder whether the gift that I wish to receive, will fit into the bag?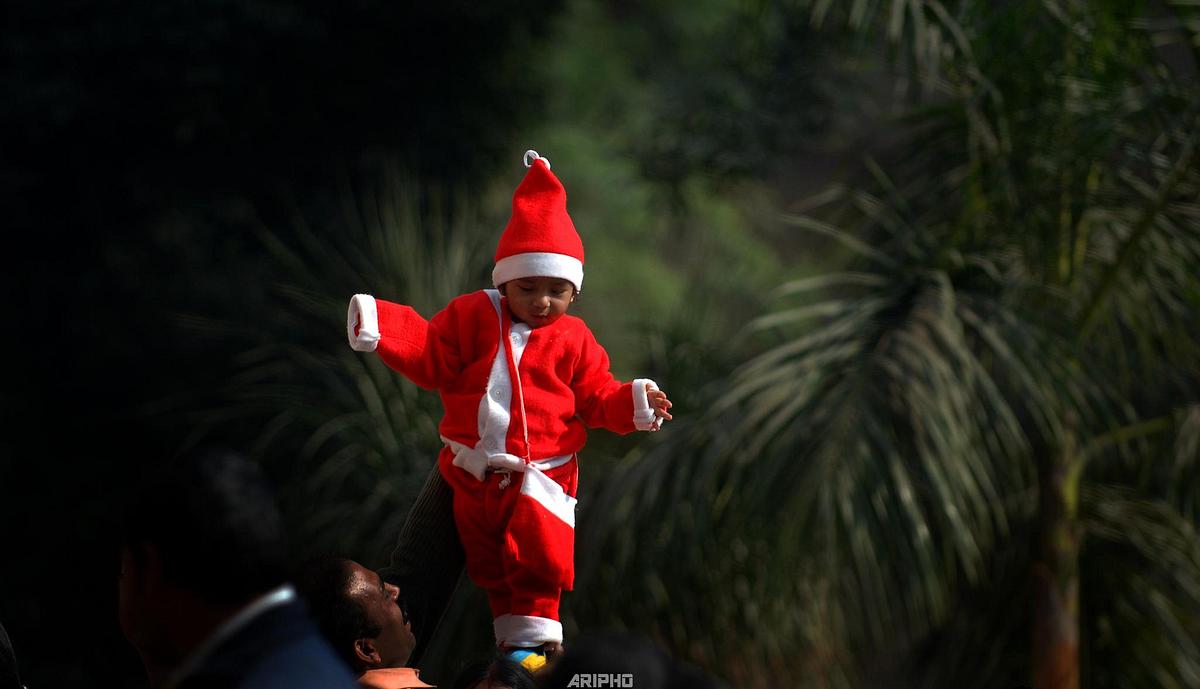 Photo and Text : ARIJIT SEN
Edited by : RAJASHREE SEN
Comments (4)
This write up actually tickles all the childhood memories related to Christmas. Arijit Da strikes the chord with me when he mentions about the abundance of love from parents, and no material gifts. But yes as we grew up Christmas celebrations transgressed to aromas of bakeries, an indeed slow stroll through park street due to the maddening crowd and definitely some savouries and wining over dinner. The essence of Christmas culminated in the joy and warmth experienced during the entire winter vacation. No matter how early we grow old, but let the concept of Santa enthrall the world, always.
I was to some extent a part of this lovely conversation. Being a parent, it always gives me an immense pleasure and joy when I see my kids excited and finally very happy to receive their gifts from their Santa. Every year they start asking me innumerable questions that whether Santa will give them a gift this time as well.. whether he gives gifts to children after they are 10 years or not..and this time it was like"Maa eyi Corona r modde ki Santa gift pounchote parbe?"😁 When we were small and as I was in a covent school, I believed that Santa gives gifts to poor children and also that if you want to go close to God, Jesus, you should also bring gifts to school for the poor children. Now at this age I think our Santa is our positive thinking and self confidence which can help us get or achieve anything we want in our lives.
Ahhhhh, this is so close to my heart. December is my favourite month of the year. Being my birthday month I used to get gifts since 1st week of this month. Needless to say that no matter how old we are we all love to get gifts. After receiving my birthday gifts when I used to tell my mumma that Santa gives gifts to all of my friends, she used to give me an annoying look and tell that all my friends, cousins are the real Santa who brought gifts for me even before Christmas Eve. We all know that childhood is all about innocence so I used to believe her words merrily.
A well articulated blog! Christmas is empty without Santa's presence. Father Christmas all the way from Norway sledging across the world with Rudolf and the bag full of goodies. A glass of milk and cookies on Christmas Eve with a secret letter of wishes! Thanks Arijit for bringing back the nostalgia!!! I wish this innocence of St. Nicolas continues across the next generation who are slowly drifting away from myths and fables to the world of sci-fi and automation.