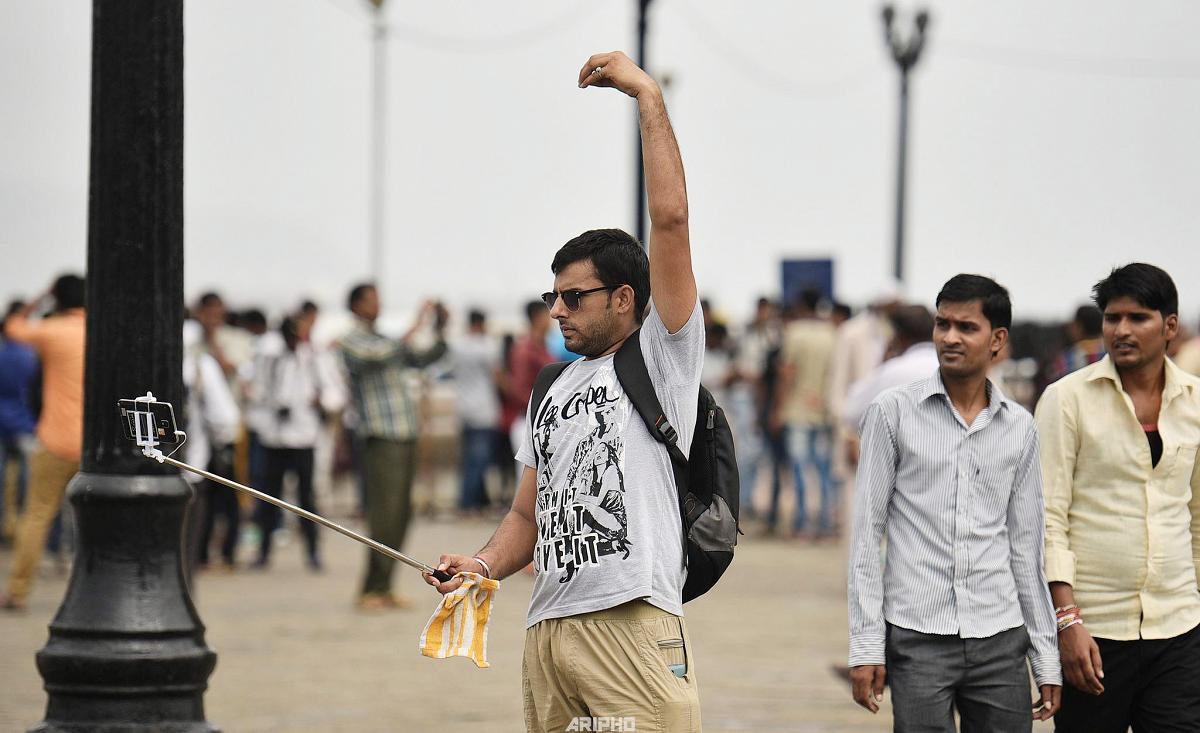 Selfie, is a short form for the phrase 'self portrait'. It is a reflection of what we want to portray.
It is very hard to find a person in this world who is unaware of the term 'selfie'. Self portraits were always in existence but we can definitely bestow the honour of coining the term 'selfie' to Mr. Mohhammad Arif , a Graphic designer hailing from Australia,
It is the smartness of the Smartphone that has popularized the age old technique of taking self portraits in a jiffy.
In the absence of the Smartphone, taking a self portrait was not a cake walk at all. It would involve the following steps:~
1. Setting the timer mode on.
2. Mounting the camera on a tripod,
3. To preset the focus and exposure.
4. Running to the designated spot after pressing the shutter .
 Now the Smartphone has changed the scenario completely. It can be now done in a jiffy, without have to worrying about almost nothing. Instead people invest all that time in decking up and posing.
Coming to poses, there are several typical poses meant only for the selfie business which we  don't apply otherwise. Pout, happens to be a very popular choice among the selfie artists. Yes, I call them artists for several reasons. Looking in the other direction while taking a selfie is also very popular. It gives a natural look and doesn't allow the audience to guess that it was actually a selfie.
I know one of my former colleague Rachel Lopez who used her selfie in a very creative way. She shoots her selfie only keeping the decorated ceilings of a taxi as her backdrop. Her Instagram profile has become very popular due to this unconventional choice of hers.
There are people who take selfie with friends. Google says there is a term, "usie" to make justice for the act. After every get together a usie is a must. You bump into a friend after a long spell may be for a second, but a usie is compulsory like a ritual. There are some unwritten selfie rules.
Accessories have come up to make it easy for them. Like a selfie stick and selfie cameras or front cameras. All the leading smartphone manufacturers like Samsung and iPhone highlights their selfie mode and front cameras to promote their products. Hell number of apps are there to edit selfies. The filters come in handy to create a particular look or emulate a celebrity. These apps are much better than the modern fairness creams that only promises fairness but doesn't live up to the clients expectations even after diligent application for years. In comparison with a tiny tap on the smartphone one can look fair, look young, slim, full bodied, glamorous etc etc. One can edit like God himself and create a look that one had only desired for. For a bald man/woman it is the magic wand that allows them to have the hair they could only have had in their dreams.
During this lockdown, I myself shot so many selfies which are so creative/ innovative that I can put up an exhibition.
There are people who take selfies keeping their immediate surroundings in mind. One favourite tourist spot gives rise to a minimum of at least ten selfies, one dish of exotic food amounts to atleast say twenty selfies, one pair of earrings  can add up to five selfies and obviously followed by a  instagram or facebook # post.
I wholeheartedly believe that a selfie is very much a portrayal of one's mental status. Why would one like to click hundreds of self portraits one must wonder? I took so many selfies in the last couple of months that I never indulged in my entire life before. This lockdown and many other things have played a havoc on my confidence level. May be that's the reason as to why I found solace in taking so many selfies, you never know. Though, I can't vouch for the same reason for others.
Today a selfie is not merely a self portrait but has become attached to every emotion of our day to day life. It's raining heavily, and one takes a selfie with it. A fire breaks in a building, and one takes a selfie even with it not even contemplating for a second about lending a helping hand.
There was an accident at Chhatrapati Shivaji Terminus, Mumbai. A local train rammed into the platform , luckily no one was injured. The drama went on throughout the day to bring it down. Since it's one of the busiest stations of the country, it became a tourist attraction for people. I found two college going students taking selfies after selfies against that ill fated train. I wonder why they were taking a selfie with it instead of capturing a regular photo for that matter.
In Mumbai very often dead dolphins end up on the beaches. There are many explanations provided behind this phenomena by the environmentalists. On one such occasion I went to take a photo of a carcass of a dolphin stuck amid the rocks near Raj Bhawan. Visibly it had died long back. I was keeping an eye on it to capture a photo of it when at the opportune  moment a school boy in uniform appeared from nowhere and went down the rocks just beside the carcass and took a selfie with it. I was just shocked, why would one take a selfie with a dead animal?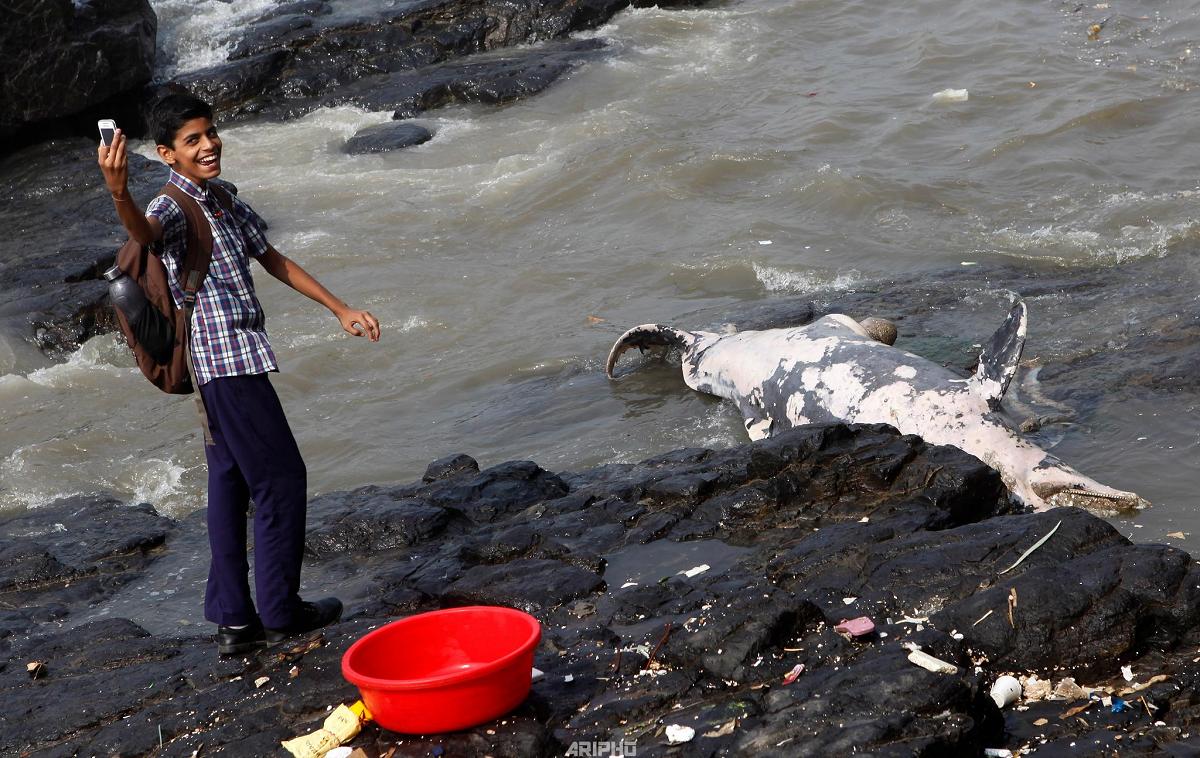 People while taking a holy dip in the Godavari river during the Kumbh fair don't forget to take a selfie with their family members now a days. It is completely an art to carry the phone in the middle of the river without destroying it. I on the other hand struggle to keep my phone dry even when it drizzles lightly.
Earlier people used to run for autographs to the celebrities holding a pen and a note book . Today it is history since autographs have lost the battle to photographs….. let me correct myself…SELFIES!.
How can someone take a selfie standing on the shore when a 4 ft high tide is lashing on it?
Any day if I  am given a preference as a photographer then I would want to take a normal photo.
These selfie-graphers create a great hindrance for us while covering news too. I mean the act of capturing real life stories involve pushing and shoving through the crowd already taking selfies for the perfect shot.
At every tourist spot we find people taking photos with the monument and that's pretty normal too. One of the popular pose being projecting their hand like holding the tip of the dome of the Taj Mahal, or pushing the leaning tower of Pisa or be it drinking water from the half fish half lion statue of Singapore. But amongst all , for taking a good selfie, one needs to be a juggler. I have seen a person clicking a selfie while standing in front of the Taj Mahal hotel of Mumbai. He was holding the mobile using his selfie stick on one hand while projecting the other one on the iconic dome of the hotel, which was a unique sight in itself.
It's still unknown to us as to why do we take selfies? However the psychologists and the researchers have their own explanations in place. Some say there is no evidences of a low self esteem or narcissistic personality behind selfies. Whereas there are people who say that people take selfies to uplift their confidence, to seek attention or to enhance their mood.
With time people have moved away from the act of capturing an original selfie. It has now become more of a selfless version of the real self.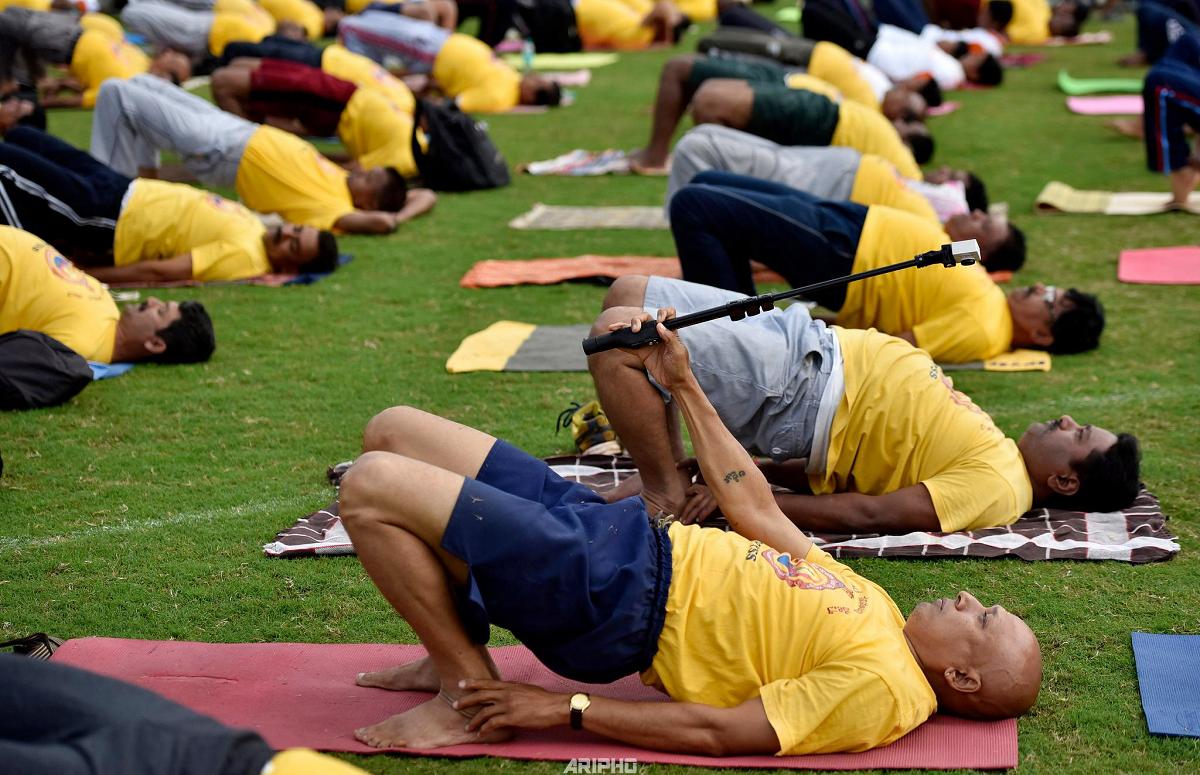 Photo & Text : ARIJIT SEN
Edited by : RAJASHREE SEN
Comments (1)
Truly amazing! An interesting perspective presented in a fascinating manner.