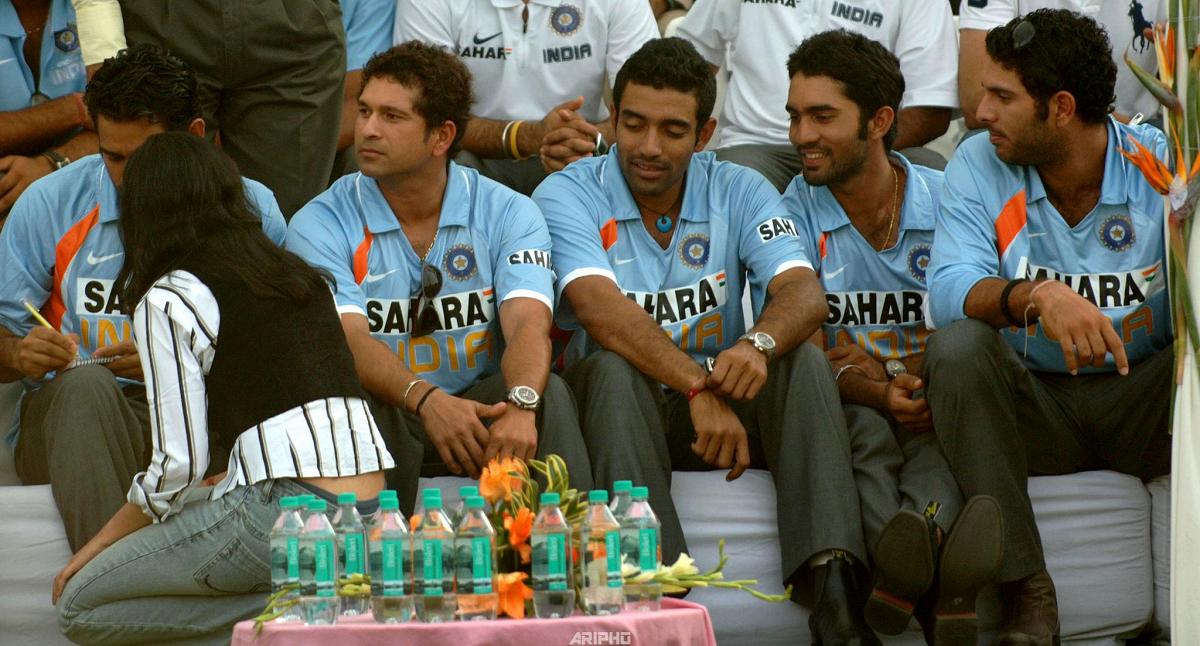 It was March,2008. The Indian Cricket team had returned from Australia after winning the Commonwealth Bank ODI Series and they were felicitated at Feroze Shah Kotla stadium in Delhi, India.
Along with the other media persons I was also present there. There was a huge gathering of media persons. A big podium was arranged to accommodate the entire team with the BCCI officials (more important than the players). Under-19 World cup champion team was also there for the felicitation. So the gathering was huge.
At that time I was with a tabloid called MetroNow (a failed JV of Times of India and Hindustan Times). My editor wouldn't want to  accept a regular boring photo like  a broadsheet.
All the players were on the podium, sitting on chairs in a line. All the legends were there. Captain MS Dhoni, Tendulkar, Yuvraj Singh and etc.. It was a very regular sight in spite of the presence of the stalwarts of the Indian Cricket. I was getting a little restless. I had a verbal fight with a fellow TV cameraman while looking for the perfect spot/shot, which was pretty normal for me.
My personal style involves holding the frame on an important person for a while and wait for "that" moment. That moment could be any thing like someone's idiosyncrasy or a funny face or any candid moment which the readers would love to see.
I tried the same thing that day too.  I focused my gadget on Sachin Tendulkar that day.
Suddenly a lady went up to the podium to take the autographs of the players. As she bent down in front of Dhoni, her undies popped out. Though it was and is a very common thing among Delhiites or otherwise still no one would miss noticing it. I was no exception too. Slowly I shifted my focus from Sachin to that woman and then I was wondering what the legends on the podium are doing. Panned my camera back towards them. Then what I saw was really shockingly interesting. Robin Uthappa, Dinesh Karthik and Yuvraj Singh all were looking at that popped up visual treat. How can I miss that moment when I was waiting for such a thing? Some times you realise how good the photo is only at the time of clicking. This was one such photo, I knew I did it. Next day it got a big display and every one in the office went gaga over it. Within days this photo went viral on the internet. The saddest part is till today a very few people know for a fact that I have clicked this photograph. A few days back Cricket Addictor a Facebook page put up this photo but didn't bother to give the photo credit. Even though the world doesn't know that it is my creation, it remains my favourite photo till date.
Photo & Text : ARIJIT SEN