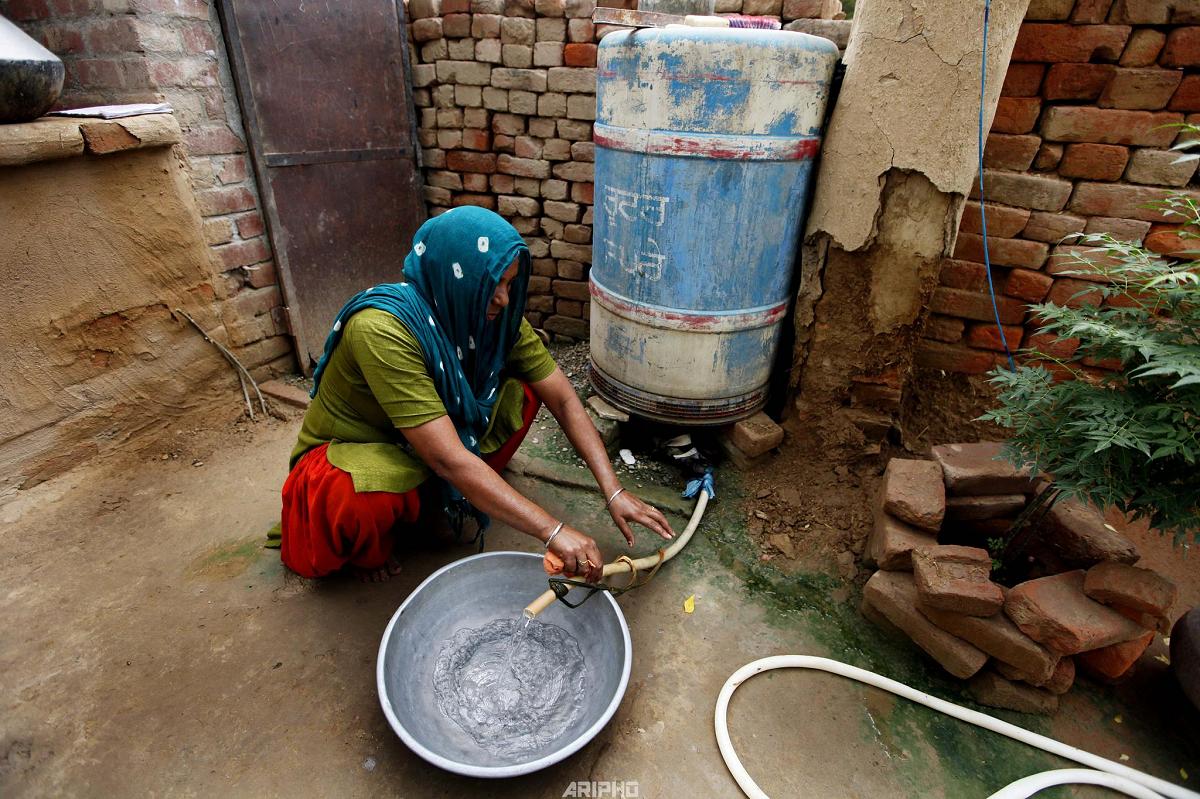 In 2012, I pitched an idea of a photo story to my boss pertaining to the 'Cancer train'. Yes, it's a train in which mostly the cancer patients travel from Bhatinda to Bikaner. He asked me to give him a formal proposal. After an in-depth research I did the needful . However he failed to get it approved from his boss. I was very keen on this project and thus was very disappointed . I decided take the plunge and go for this assignment on my own. I requested my boss to grant me a 3 day leave to cover that story which he had already approved of.
I had read several stories on that train and studied the reason behind the huge number of cancer patients in the Malwa region.
It was the use of pesticides that was the key reason apart from the other ones that led to the increase in the number of cancers patients there.My next job was to zero down an NGO which was campaigning against the use of pesticides in that region and I did manage to find out one. They assured me to help me with my story. I also got in touch with a  Hindustan Times correspondent in Bhatinda who helped me to get a hotel room and a car booked for my convenience.
In my mind I had already etched a  plan about how I wanted to execute my assignment and the photos I wanted to click which actually made it a bit easier for me.
I reached Bhatinda late in the afternoon by an early morning train. The next morning I was in the cotton fields with one of the NGO correspondent with whom I could work in collaboration . He narrated to me the entire story behind the place being so prone to that deadly disease and how it had  engulfed the entire region.
Since the days of Green Revolution the farmers were using pesticides. With time they had increased the use of it. No one took any protection while spraying the pesticides. So they exposed themselves to the deadly chemicals day in and day out.
It did not just stop there. They went to the extent of  using the chemical laden containers for household chores, like storing drinking water. He added that if the water from such a container was fed to the cattle the effect of the deadly chemical multiples manifold through its milk. The locals kept on indulging in these harmful activities without any remorse or understanding.
I met a middle aged woman who was also a cancer patient . To my horror I found out that she was still using one such chemical container for storing  drinking water. I had even spotted people drinking water from the container of  a banned pesticide company . It was really scary !Every second house had a cancer patient.
After the days work I was not feeling well and felt  feverish. I grabbed a strip of paracetamol and left for the station to board that cancer train , ie the Abohar-Jodhpur train in the evening. Before the train arrived I was roaming around the station to click some photos of the cancer patients waiting for the train. A few were visibly identifiable as patients but I found it very uncomfortable to ask them if they were going to Bikaner for cancer treatment. Again I was not in a position to take photos of anyone random and tag them as cancer patients. So I started talking to people which really helped me to identify the patients. The so called 'cancer train' arrived on time. I wanted to move around inside the train and take photos. But the actual situation on board was very different from what I had imagined. Forget about moving freely, there was no space to even stand without brushing another individual .It was badly over crowded. Yet I had to move around a bit with lot of difficulty. On one hand I had fever and on the other hand I had to negotiate with the crowd to make space for me along with my gadgets. People were sleeping under the seats. A woman who was sitting by a window had started chumming . It was so much crowded that the poor woman couldn't even reach the toilet and in a bid to tackle that situation grabbed some clothes and sat on it instead. Understanding her plight and unable to help her out I continued to work my way through the crowd.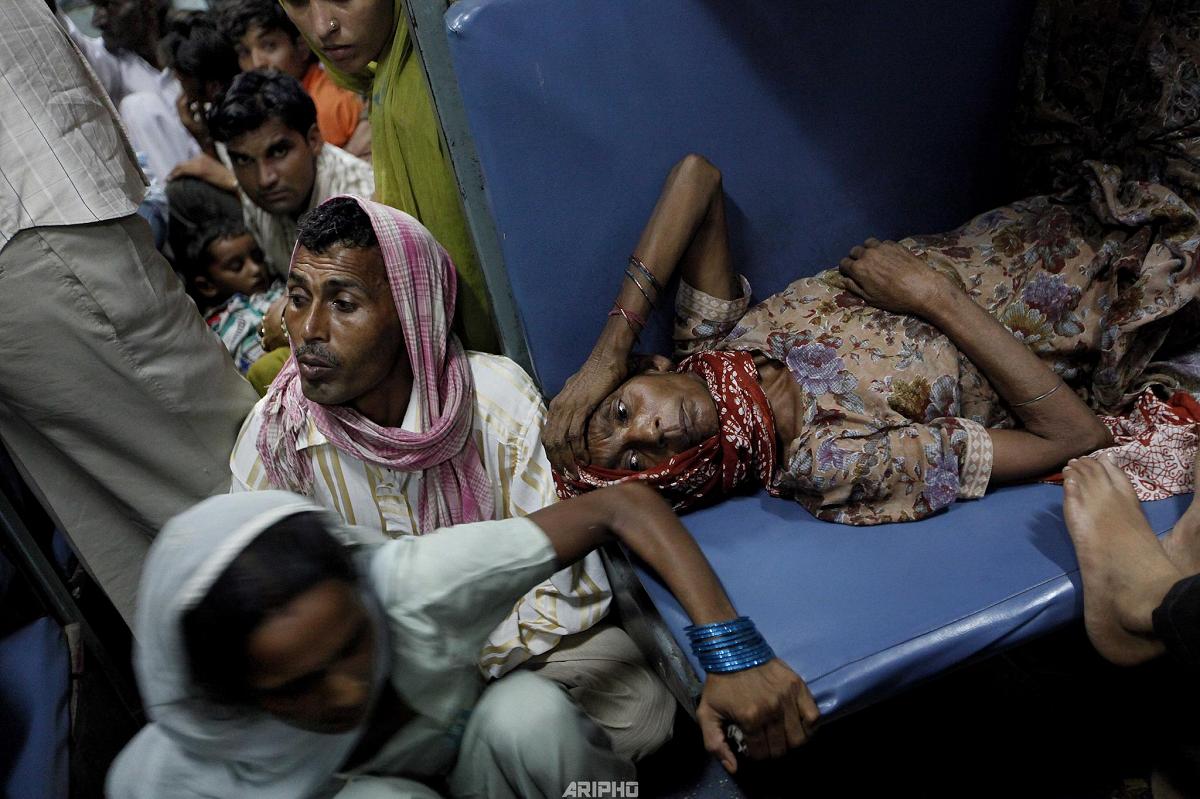 The situation was very bad. I could see there were many patients who were travelling but it was really tough to talk to them and take photos in that situation. Yet I tried my level best. It was an over night journey. The train reached Bikaner the next day early morning.  I next went to the Acharya Tulsi Regional Cancer Treatment and Research Institute. This is the place where the cancer patients go for their treatment. Even though its 342kms away , they chose it for affordability. The hospital authority didn't allow me to shoot inside so I left for the station and came back to Delhi with high fever.
My boss was not very satisfied with the outcome and insisted me to go again and do a re-shoot of the train.
After a couple of months I gave it another try. This time I spoke to  some locals as I was finding it difficult to identify the patients. They said 'it's very easy, whoever is wearing turban are all patient or their relatives', though I don't know the real reason behind this. However it actually worked for me. I could find many such patients very easily. I spoke to them and heard their story. Every day hundreds of  such patients go to Bikaner for treatment. This time I was successful to shoot inside the hospital too as I took prior permission. Though the hospital was a sprawling one but it was not well kept. I visited some cancer wards just to find patients irrespective of their ages. That was very depressing. I had to stay back that night in a hotel near the station.
This time around my boss was satisfied. He selected a few photos. This selection process continued for several months. At one point it even became a joke on me and the 'cancer train'. Every time he would select photos and arrange them in a sequence and leave. He could not convince the Editor to publish them.Though every one was happy with the story and the photos but no one took the call to publish them.
During, World Cancer Day he again asked me to bring it out for the  online edition. I was very happy. The next day they published six photos from that series on the occasion of World Cancer Day. But I never expected that from a boss who always portrayed himself as a perfectionist. They actually broke the sequence and published them just for the sake of it. The tail of the original sequence was leading while the head was trailing at the back. When I enquired about this confusing order,my boss with a plain face conveyed to me that, "at least it got published, be happy".
I had paid for the trips, had taken nothing from the office except those leaves. Did my own research , build up a source and all went into vain.
That NGO guy called me several times asking me when it would get published.  I had no answer. I had done everything out of greed for a good display , great story and a byline. Greed never pays you see.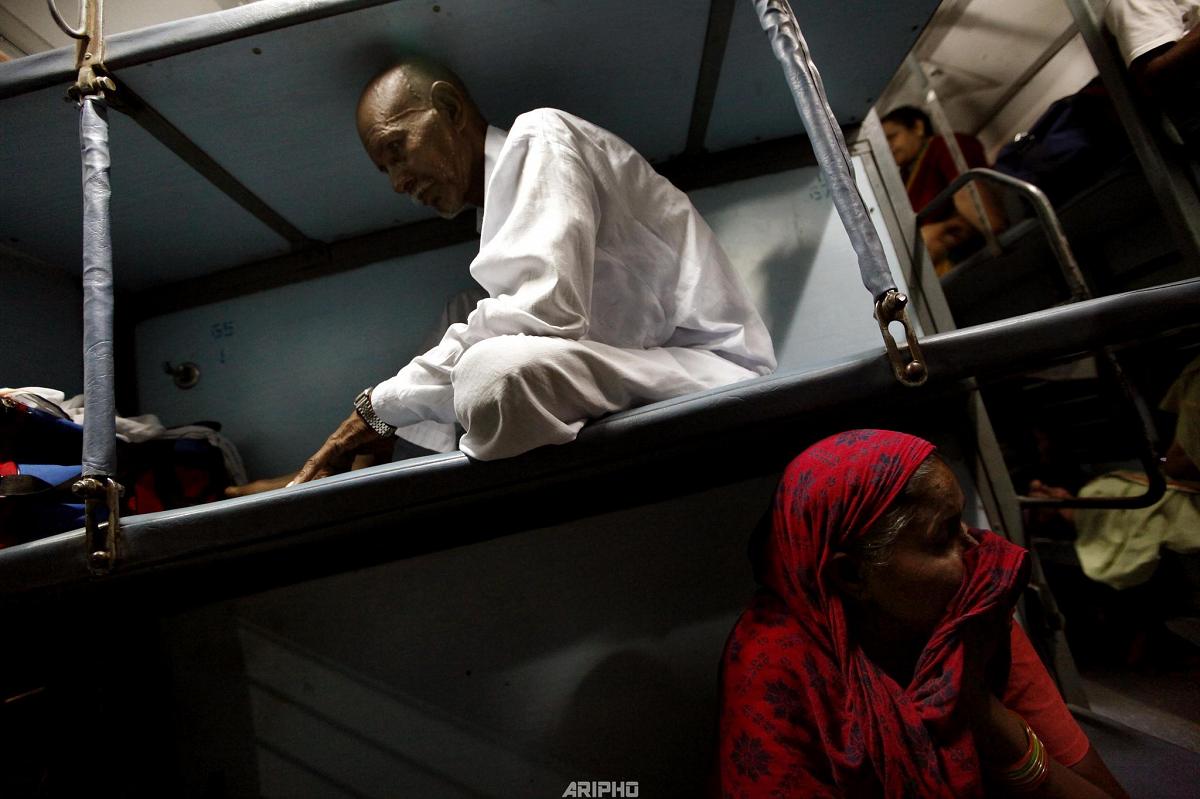 Photo & Text : ARIJIT SEN
Edited by : RAJASHREE SEN