It took us 2 years to mutually zero down on a place for our vacation. Due to Dussehra all the good homestays were closed and I had to agree to a hotel of my wife's choice which I can't really complain about.
On 16th of October2021, we landed at a baby airport, Pakyong and  a vacation to remember for ever begun.
The driver of our pre booked cab called us to inform that he won't be able to come but was kind enough to send someone else. You see he had landed a heftier assignment for Zuluk, so commitment meant nothing after pocketing an advance if Rs 2000/-.The second driver called me later and said that he was about to reach and informed his boss that he had already reached. After almost an hour of landing we decided to begin our trip with a loss of Rs2000/- We took a pre-paid taxi to our hotel which was way cheaper. We met our new our driver- our pilot in Gangtok. 
When I asked his name, he replied but my ears. I said, "Limpa?" 
He corrected me. I again said, "Likhpa?"
Now my wife corrected me, Its Lekpa". How can I not understand my wife?
Lekpa a father of two is a very soft spoken person with a sense of responsibility and respect, in return he gained our respect too. Slowly we got dependent on him and booked him for our next day's trip to Nathula.
Summit Golden Crescent is a very posh looking hotel and our room was nice and spacious with a beautiful view of the mountains through the huge glass window. 
Had a late lunch thanks to our no pickup and left for the Mall Road or M G Marg, the market place of Gangtok. We were guided that we could board a shared taxi for Rs30 each to MG Marg. As usual, the taxi walas easily make out from our touristic look and asked for Rs200/- , when we denied and asked them to show us the way to the stand to board a shared taxi, they fooled us and asked us to climb a steep road. Their trick was soon uncovered. We ended up boarding an empty taxi that was enroute.
The Mall road was so crowded as if corona never existed. After a couple of up downs along the market my wife headed towards a café as predicted, The Baker's Café. Nice food and even nicer sunset view with a cup of Irish coffee. 
| | |
| --- | --- |
| | |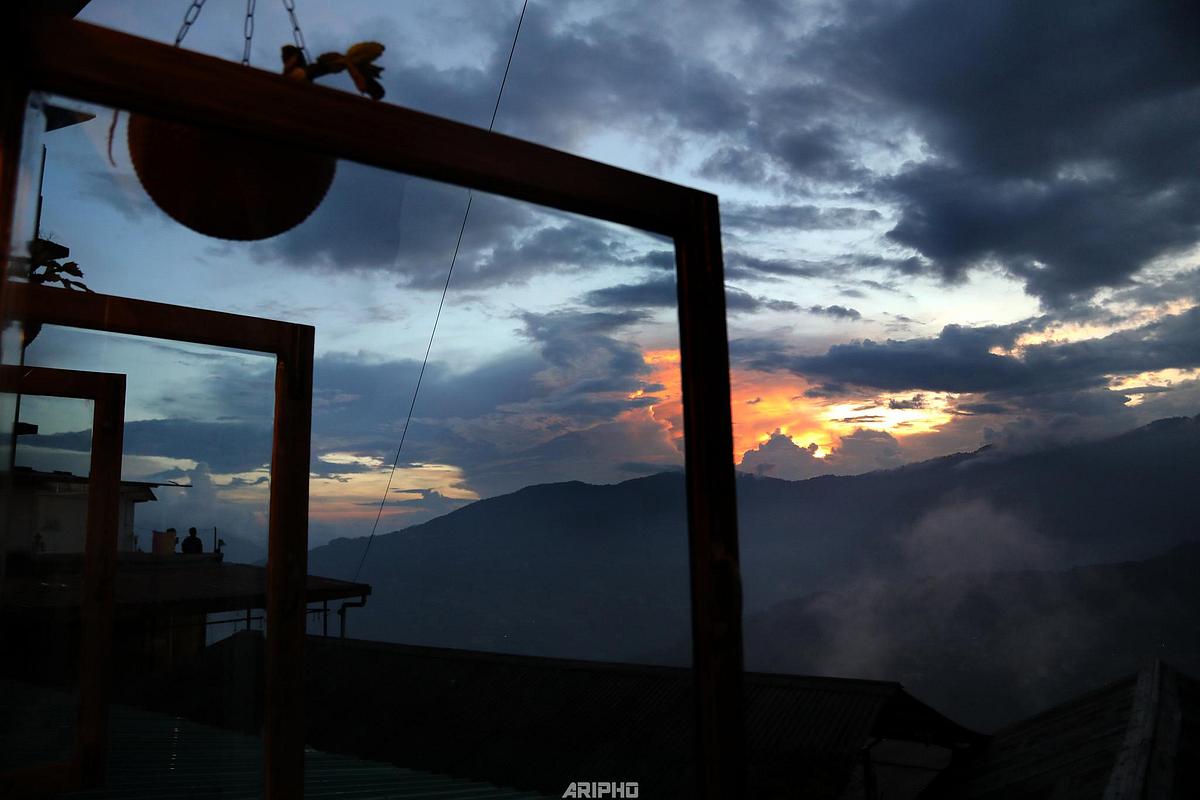 We walked down to the taxi stand but the taxi wala refused to go on share and said, due to the shortage of taxi no one is going for share. Agreed at Rs150.Oh, shared taxi stand was a couple of steps ahead, he actually lied. On reaching our hotel the taxi wala refused to take Rs150 and asked for Rs200/ instead. The thing is, if you behave like a tourist get ready to be screwed by everyone at every corner.
As we entered our room it seemed we were back in Kolkata. It was soooo hot. The room had hardly any ventilations making things suffocating. We requested the hotel to give a pedestal fan but they changed the room. Now the view from the room got wrapped in a net covered window. The hotels best attraction is its rooftop which is also covered with nets so claustrophobic for a photographer. Never expected a hotel to spoil such a view which happens to be their usp.
New day new beginning.
Sharp at 8am, Lekpa was waiting for us  downstairs with the permits for Nathula.
After a short spell of rain the weather was fit for all the warm clothes we had stacked in the bag and we headed for the Nathula pass.
The scenic beauty was mesmerising. The clouds and mountains kept on playing making things heavenly through out. As we went up the weather changed drastically. After a couple of stops for photography and selfies we stopped at Changu lake, a very prominent place of visit.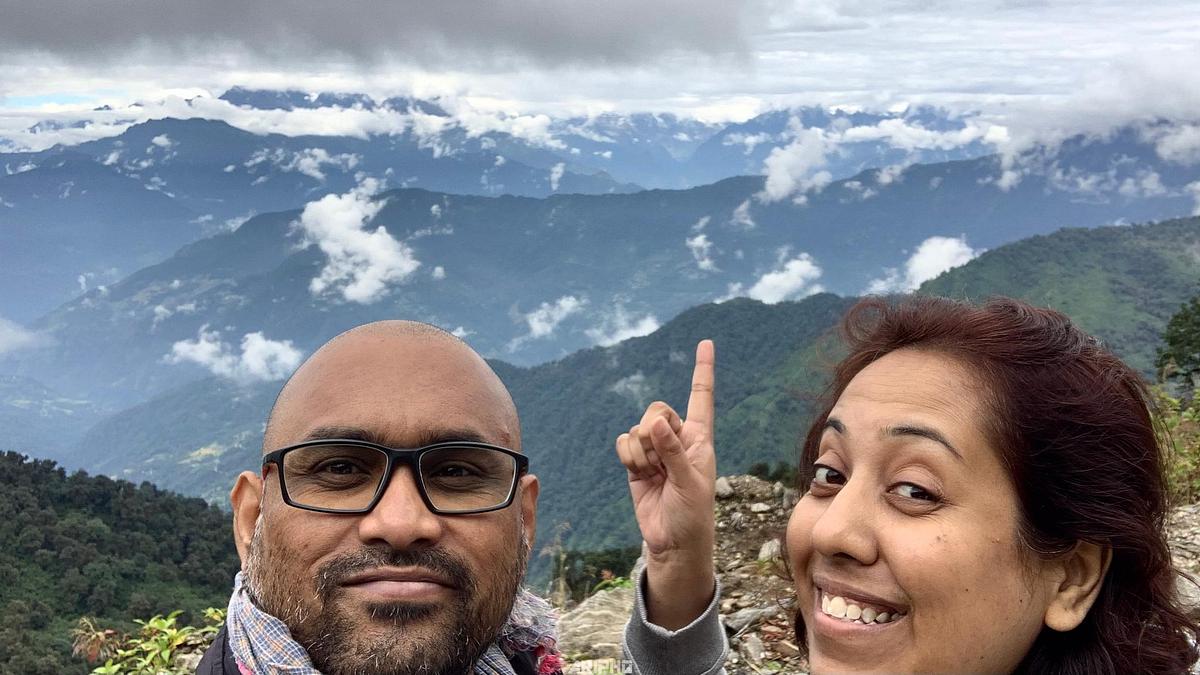 They say this lake changes its beauty with every season. Frozen one is the best which we missed by a couple of months. As we went up the view of Changu lake was more beautiful with the mountains at the back and clouds passing by. Since we were travelling in a small car and those are not allowed in Nathula, Lekpa had arranged a clubbing for us on a bigger one. Soon we were in a Tata Sumo with a family from Assam. Fare was already adjusted with Lekpa.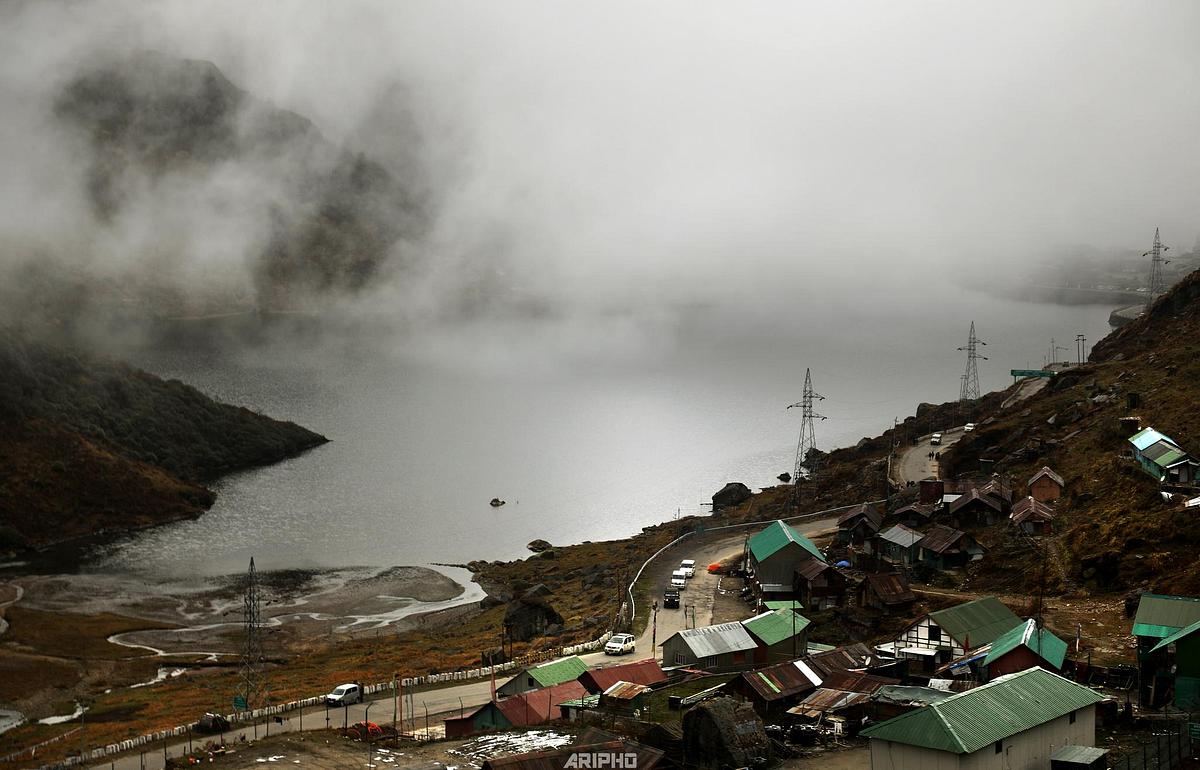 Nathula was chilling cold with near zero temperature with constant drizzling. I could feel the numbness in my hand. On our way to Nathula, people were selling pop corns as this will help at the top when the oxygen level drops. We ignored it saying it's just another way of selling things, and moved on. At Nathula, I hardly felt the shortage of oxygen but my wife was struggling, one of our co-passengers gave her popcorns and camphor which really helped her. Several others were struggling too. My wife still managed to go till the top and we had a look at the Chinese territory. It was crowded there at the top on our side. 
A conversation sailed through the chilling weather.
- Can you see that Chinese soldier?
- Where?
- Oh, look at the top floor of that white building.
- I can  kill them with one slingshot, why waste bullets!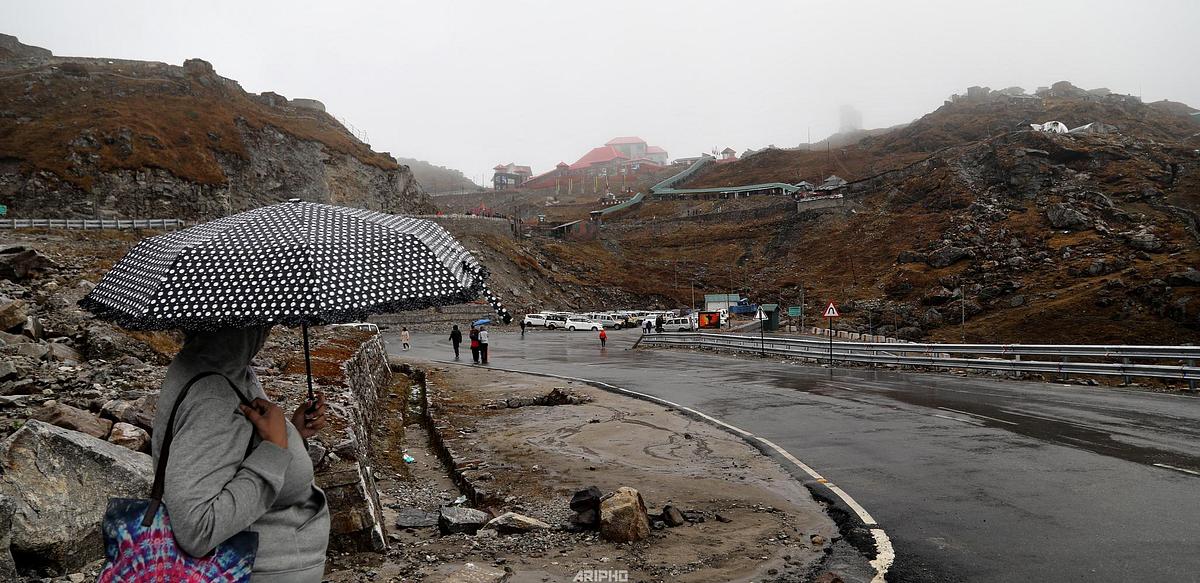 The feeling was so different, just across the barbed wires which is at the hand stretched distance it's a totally different country, different law and different people altogether. I wonder why only the Indian tourists come here to see the Indo-China border and not the Chinese tourists? Photography was strictly prohibited at the top so I clicked a couple of photos only when we came down. By then it was raining cats and dogs. My umbrella was well preserved in the suitcase. Someone asked me the time, I looked at my watch i.e. my mobile and said it's 3:30PM. Every one was surprised, my wife looked at her wrist watch and corrected me, its 12 noon, she said. May be due to the low temperature my mobile had malfunctioned but I checked the time & date settings in my mobile. It was surprising, we were in the Beijing time zone yet standing well inside India. Don't know how many of you have experienced this but it was quite interesting.
The next stop was Baba mandir. By then it was raining big cats and big dogs. It was crowded like a fair. After a short visit my wife came out of the mandir with a handful of puffed rice and raisins as prasad and we came down for lunch. It was a hutment on the road side. Lekpa brought a couple of glass full of warm water for us. My order was chicken rice with dal and vegetables and my wife went for Momo and soupy maggie. It was a very refreshing end for both the stomach and the mind.
We wanted to go for the ropeway at Changu lake but due to the incessant rain we opted to continue with the drive way. We came down rain soaked through the hypnotic view of the Himalayas and the beautiful smell of mountain trees. Had to warm ourselves with cups of coffee and tea as our hotel failed to provide us with hot water.
Post dinner we started feeling sick. Didn't like the dinner though.
I went with my traditional way of healing but my wife.
Whenever I feel bad in my stomach, I just drink water till I feel like throwing up and put my fingers into my mouth till I puke. After a couple of shots I felt better but remained sick. My wife remained upset with her stomach. Requested our hotel to send someone to bring us a couple of medicines. There is no medicine shop near by, was the reply. I had to force them. Then a guy came back with all the secondary medicines but the main one. Finally I had to go out even though I was not feeling well.
The taxi wala asked for Rs 120/- to Ranka taxi stand. I agreed, then a woman joined us, he reduced it to Rs 90/-. Then a Bengali couple, it further reduced to Rs 30/-.
An entire day lost inside the room with the net covered disgusting view of the mountains and the sinking feeling inside.
We had to postpone our local sightseeing plan with Lekpa.
For lunch I had ordered a plate of dal khichdi to be on the safer side. Our esteemed hotel provided khichdi with stale rice. During dinner I actually had to threaten them with consequences if they failed to give us fresh food. Things fell into place there after.
From the third day the hotel went dry, no water in the toilet forget about hot water. It was more frustrating because it was raining non-stop outside yet our hotel taps remained dry, though it has no connection I know.
On 19th afternoon we went for local sightseeing with our reliable companion Lekpa.
Ban Jhakri falls was our first stop.
Then went for the ropeway ride. It was short yet beautiful sliding up and down above the cloud covered landscape with a bunch of talkative Bengali old couples who had travelled all over the world which they claimed in their over loud conversation.
| | |
| --- | --- |
| | |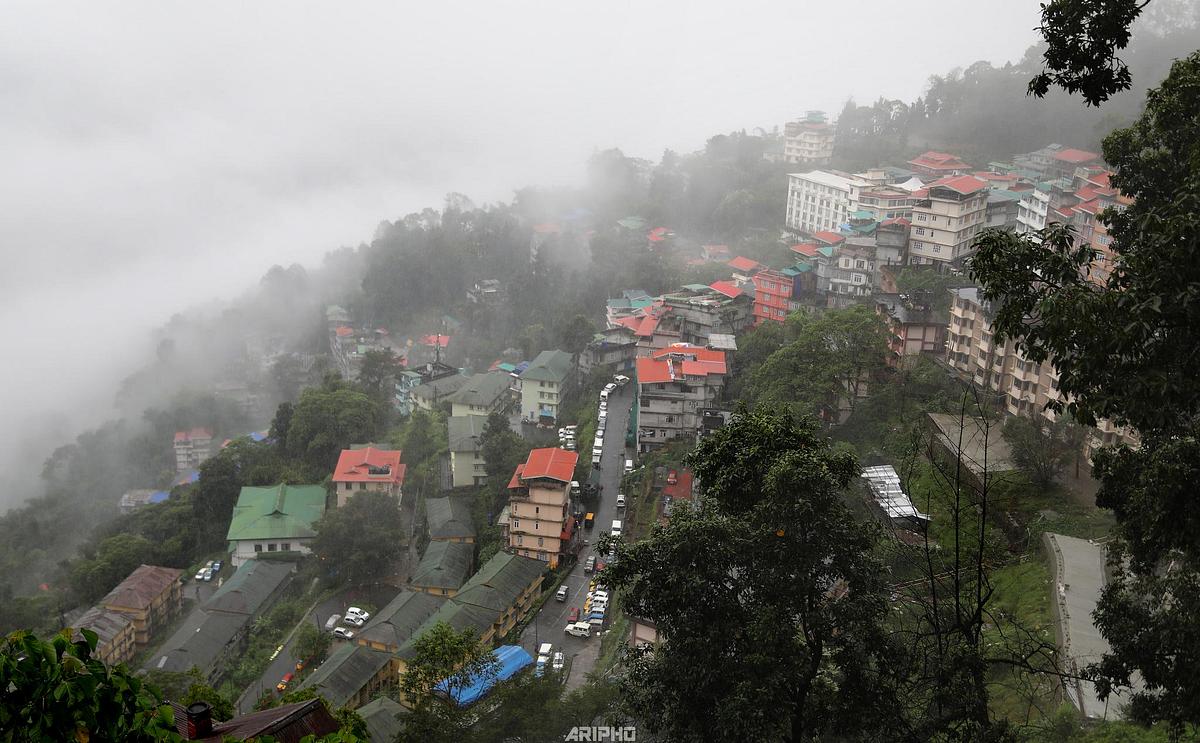 The next stop was Elgin Nor-Khill hotel for lunch. We had Chicken corn soup, garlic bread and roasted chicken sitting beside the window with a  view to look out for.


By then it was dark and raining but we continued with our sightseeing, though there was no sight but only seeing.
Bakthang falls, Lasa falls and Ganeshtok.
On our return to the hotel we got a call from the airline that due to the bad weather our flight can't take off from Pakyong airport and has been shifted to Bagdogra. 24kms went up to 124 kms in just a phone call. The news of land slides and road blockage had reached our inbox by then.
We had to convince the very reluctant Lekpa to take us to Bagdogra airport the next morning.
No water in our hotel again!
Ordered , roti and potato fry for dinner. The waitress literally cross checked the recipe with me, ok us. Fir the first time we had the freshly cooked food since we boarded our hotel.
At 5AM we left with Lekpa. Within an hour of our journey downhill our car came to a halt behind a long queue of cars filled with tourists due to landslide. There was only one way for detour which was not so good and no one was ready to take that route. But Lekpa was determined to take us to the airport. He took that route and others followed. It wad quite bad and long, as we hit the highway we got stuck again at a new landslide area. Almost after an hour we managed to cross.
| | |
| --- | --- |
| | |
Lekpa became a little skeptical about his own return and started insisting us to go back to Gangtok. We insisted him otherwise. At one point it was like we could board the flight if only they spared us with the security check. Then at a turn the police asked us to take the route through Darjeeling which is a detour of another 20kms. Then Lekpa apologetically requested us to shift to a Siliguri bound car as he wont be able to return home. He arranged a cab for us.

This new driver was quite a character. Within a kilometre he stopped the car to buy a slipper as he was driving barefoot.
We had realised that no way we could reach the airport for our flight and requested the airline to accommodate us in their next flight. I Called the travel insurance company for our claim on flight diversion.
Now the driver wanted to stop for a cup of tea when we were hardly on time for the next available flight. My wife gave him a piece of her mind. He continued driving through the scenic tea gardens of Darjeeling. We were so tensed and worried that even those picturesque landscapes were appearing ugly to us.
The airline asked us to reach airport by 2:30PM then only they could accommodate us on the next flight. We were almost on time and  then we had to take another detour which was shorter in distance than the actual one but that weird minded driver started driving like we had no flight to catch. The worst thing to say to a driver is to drive fast and that too in the mountains. We had a heated discussion but he agreed to drop us by 2PM. As per google we were just 10kms away from the airport, had to take another detour because of a bridge collapse in Siliguri. This detour was through the congested roads of the city. No way we could reach by 2:30PM. We planned a game plan, I will release the cab at the airport and my wife will go to the airline counter to request them to do the needful.
Thanks to a drunkard who helped us to finally board the 3:50PM flight. The Bagdogra bound flight from Kolkata had to go back due a drunk passenger on board and got delayed and allowed us enough time to board it.
We came back home safe. I enjoyed a hot shower after almost two days.
Now I am sick of being a tourist to the opportunist cab drivers, hotels and detours. 
Photos, Videos and Text : ARIJIT SEN
Edited by : RAJASHREE SEN