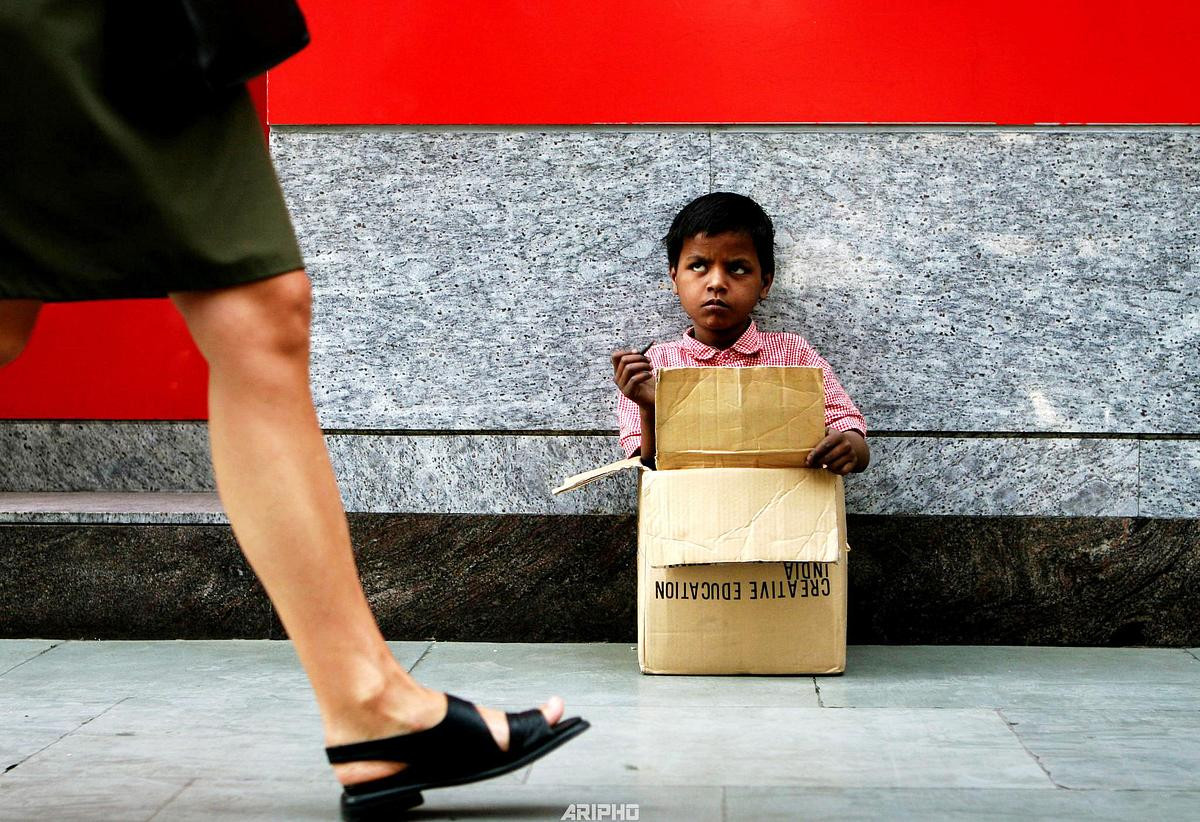 My childhood experiences definitely shaped the person I am today. It might appear to be a very  unimportant or general discussion to you, but to me it is the very foundation of my nature today.
Things that I experienced or went through  occurred to me may be more than thirty-five years ago and yet I am still hesitant to do relive those  moments. Certain incidents are etched in my head for ever which doesn't allow me to move ahead. Today, if I experience anything bad I have the power to ignore them and brush it off very easily but back then it was a very different story.
While having food at anyone's place, I would never dare to ask for a second helping unless they would insist no matter how delicious that food is or even  if I would still feel hungry. Let me take you back to my childhood days, when I was not even 10years old.
In our joint family system every food item had a fixed portion that was served to each individual. Two pieces of potato, & two pieces if it was chicken. In case of a fish the big ones were reserved for the elders, small ones for the children and the pieces that no one would eat went to the ladies. No discrimination if it was egg curry though. Everyone got a half of it. If you could procure the bigger yolk then you were deemed very lucky. So when ever I visited my relatives and they offered me an extra piece of fish or chicken, I used to think how come they have an extra piece ? Is it even legal? During bhai-phota (a Hindu ritual to celebrate the relationship of brothers and sisters) we had family lunches. Those days we used to eat sitting on the floor. Since that was a huge celebration, there were several dishes, one after the other being served. This was a difficult one for me to gage when it would be over? People would jokingly say, Are you still not done ? get up, its over, nothing else is coming your way!".
Coming to an incident when I was even younger and having dinner at a relatives place. In our part of the world eating with bare hands and licking them is very usual. One would know how delicious the food is just by this gesture. Someone just passed a comment, "how much more would you lick your hand?" How would she ever know that this unimportant remark stayed with me forever? I am still very reluctant and feel uneasy while having food at someone else's place. My wit and humorous comments helped me fight these judgements way later in life.
I was always fat may be obese since my childhood. Quite naturally, I had a big belly and visible breasts which were definitely not normal for a boy or a man to flaunt. People used to make fun of my breasts as a result even in the hottest days I would never remove my shirt to cool it off in front of others. Even today when I am lean, I am very uncomfortable to remove my shirt in front of my family  members unlike the other menfolk. It was for the same reason that  I always stayed away from body hugging clothes . My mother once taught me to make fun of ones own self which refrained others to do the same and it really worked. I always wanted to wear jeans like all my friends but my waistline did not allow me to. If I had to buy a readymade pair of jeans which would fit my waist  the length would be fit for a 5ft guy (which I was not)and if I had to match the length the ends would never meet at the waist. Branded ones were way costlier and always failed to match the composition of my body. This dream remained unfulfilled till I got a job. After decades when I started shopping on my own, I tried a couple of jeans at a mall and surprisingly they all fitted my waist and the pocket both.
In my earlier blogs I have already mentioned how talented I was in my studies. I rejoiced like the first boy in the class when I just procured the passing marks. I was very reluctant to ask any question or say anything in the class, I knew everyone would make fun of me including the teachers. Even my relatives never expected much from me in the exams. My cousin sister who used to study in the same class with me was way better than me. I was always compared with her though I knew that I was of no match, she was even taller than me. Everyone used to compare me with her regarding every aspect. I was so poor in studies that even the private coaching classes refused to give me admission. During the class-X Board exams, everyday after each and every exam my father used to ask me "would you make it to the first division?" which is 60%. I used to give him a prompt reply "yes" irrespective of how it went. May be he wanted to show the world that his son can also do it and I never wanted to make him feel sad before the results were out. On the day of result I had scored way above 60% and missed the social standard for good students i.e. 75% by just couple of marks. Only I knew how much I prayed last night. I never wanted to put my parents down. They cried with me out of joy like children, that day. In due course I gained confidence in myself. Did well in my own field too. But even today, I hesitate to ask any question anywhere, be it outside at an event or in family gatherings, what if they make fun of me? Till date I hate to be compared with others but myself.
I am a weird person, who has no friends . Not a single one. I have well wishers, acquaintances and big brother like figures but no friends.
In grade-VII, the school had to place a few students in two different sections. The class teacher asked the class very casually "who has no friends in this class? I will shift him/ her to the other section then." A couple of classmates stood up and took my name. I felt really bad because I would no more be in the same section as my cousin sister who was the only solace for me. I continued to be in the same section, though I don't know why or how. Being a friendless classmate is not so easy. Everyday I was bullied by my own classmates. I used to avoid them even outside the school. What if they called me names in front of my parents.
My wife often asks me why I don't have any friends like other normal people? In search of this answer, I went back to class-II when I was just 7yrs old. I had a friend called "A" (don't want to take his name). He used to sit beside me in the class and talk to me throughout. He would tell some stories too. I took him as a friend. One day he said he would come to my house. I was so very excited. He used to stay very close to mine but was not aware of my house. I went to a common place to receive him, waited for an hour or more. He never came. May be he had forgotten or his parents never allowed him to go out or he had just played a prank. I am not saying this incident made me a friendless guy. I was pretty embarrassed that day. Who knows probably that incident never allowed me to make friends ever.
Today when I am established (in my own way), people invite me in their weddings and engagements. I wondered, I am not their friend (as per the definition) why are they inviting me? The hidden agenda was to get clicked for free. I have refused them too, many a times.
The other day, one of my little friends was sharing his dream that he had seen last night, where people were body shaming him, I could relate to his dream so well. He was very shy and reluctant to share his weight too, quite naturally. These are the things which remain in the minds of children for ever. Coming out of that is an Herculean task and takes time.
In our childhood days we never celebrated our birthdays, never. No cakes, no gifts, nothing. That used to be just like any other day. It was a superstition that someone would die in the family if we did celebrate our birthdays. That was the reason given to us. When I grew up, and  cut my first birthday cake with my batchmates in photography class I was very surprised as they had arranged it for me. Though a bit scared to break my family tradition I did take the plunge. No one died thankfully. My elder cousin sister cut her first birthday cake on her 60th birthday.
Someone doesn't like the tungsten lights in his room because that reminds him of his struggling days.
For long, an odour of incense sticks reminded me of passing away of one of our neighbours.
Nowadays, I recall the smell of a bathroom whenever I get the smell of Dettol hand wash. This happened for using one brand of same aroma for one particular purpose for so long.
Not necessarily it has to be a traumatic experience . It could be a very small or unimportant incident or may be just a passing comment for us but they might leave a deep mark in the growing minds and affect their life forever.
We were taught not to talk about money. We were not supposed to ask the price. This remained with me for long even when I had to talk about it.
All of us have such incidents in life which we prefer to keep within us without sharing. I don't share these for others to cry upon but to inspire children to over come their sorrows, their shortcomings, their limitations which is nothing but a perspective imposed upon them by so called 'people' who think they have been bestowed this duty by the Almighty himself.
By this post I can only share my views and request people to stop passing unnecessary comments on a child. Think twice before body shaming a child &  humiliating a person. You never know how sensitive he / she is and unknowingly you could be the reason that leaves a scar in his mind. Let us help them to preserve their innocence and help ourselves to retain the child within us.
Text & Photo: ARIJIT SEN
Edited by: RAJASHREE SEN