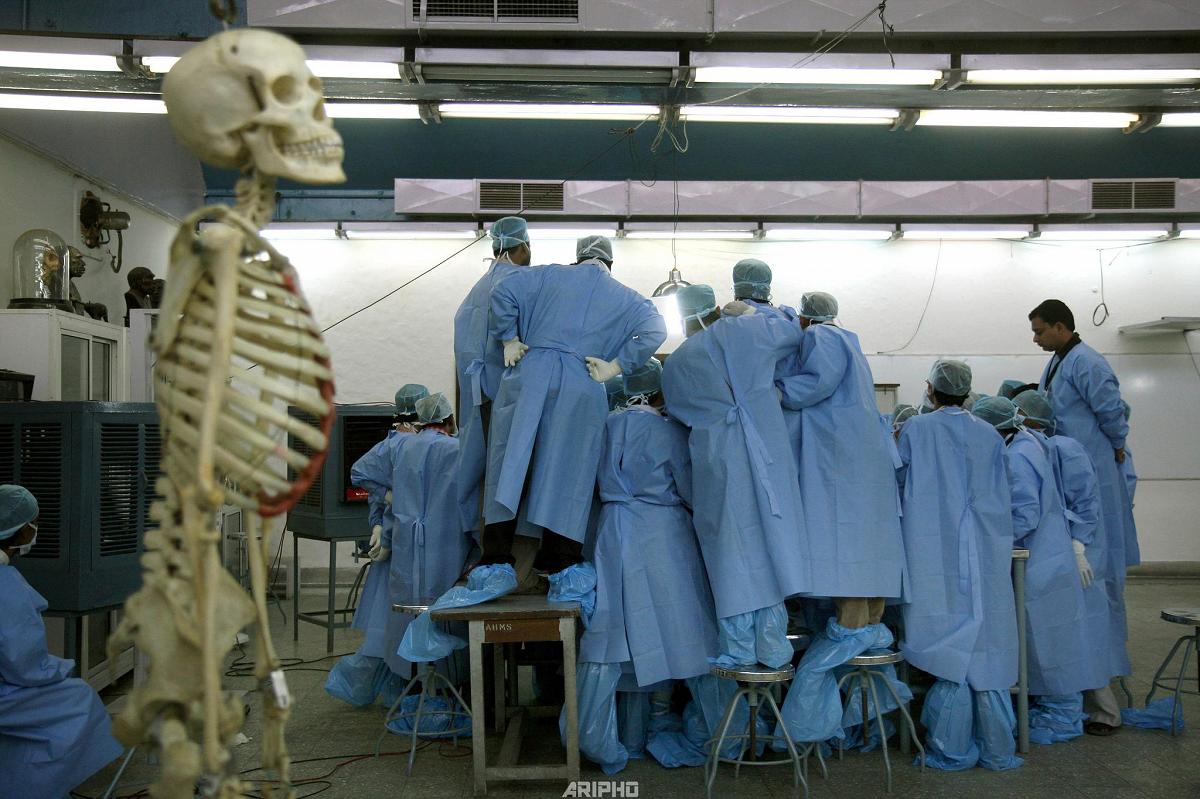 On one  particular occasion I got an assignment from my office to cover an event at the AIIMS (All india Institute of Medical Science). An Australian professor was slated to teach a hip replacement surgery to the junior doctors. That was a Sunday morning assignment. Generally Sundays used to be very chilled out with very less assignments or may be nothing at times.
As I reached there the PR person escorted me to the place where it was going to happen.
It was a huge hall with few beds. As I entered, I noticed there were two dead bodies lying on the beds. I had done several shoots of surgeries for doctors but never had been to a place like that. It took me some time to ignore the presence of the dead in the room.
The Australian doctor/professor (can't remember his name) after a brief introduction to the junior doctors started demonstrating a hip replacement surgery on one of those dead bodies.
There were at least thirty doctors around the table trying to have a look at the surgery. They were standing on stools and tables to get a better view. In one word there was a chaos around that operation table. I have no idea if they were able to get the lesson right, but I was not getting the right shot for sure. Tried several things but only managed to capture some regular boring pictures. Just for your information, at that time I was working in a broadsheet newspaper that accepted any photographs that came their way and did not have an eye for an exciting frame. But me being me, I was not happy to be jaded and complacent and I kept trying for almost an hour to do justice and then decided to leave. Oh, there was one more photographer from AFP photo agency who was also struggling to capture a decent frame. While leaving in a hurry,  I suddenly noticed a skeleton at the corner of the hall and wanted to give another shot with this in the foreground. To get the desired frame I took a couple of shots with raised hand and left for  office.  I knew that I had got a good one finally but I had a blind trust on our editors, who won't publish my best frame, as it will never get their attention.
Exactly that is what happened. I was really disappointed though I was expecting this outcome.
By then I had simultaneously started a Facebook album called "unpublished" for all those good photographs (according to me) which never got published. I had gradually earned a name too as, "the unpublished photographer".
After a couple of months passed there was a national press photography contest, MFI Awards. This photograph was one of my entries and I was fortunate enough to win my first ever prize and that too First prize in the daily life category. After this incident my office was eager to publish this photo with one of their stories and they did so. I felt honoured and acknowledged to win a prize for an unpublished photograph and I had managed to prove a point that day.
All the photo editors I have worked with were stuck in stereotypes. They always asked the photographers to think out of the box ending up  choosing from within the box itself.
Photo & Text : ARIJIT SEN



Comments (2)
U r the "humorous photographer"
One of the finest, funniest and feeling full composition by Aripho. He has set his Humour standards at par. If you have not seen this image properly, you are not lucky today. The greatness of this image says about the timing, wittyness and humour all in one frame.